Detailed Photos of Insects
Photographer Levon Biss came up with a way to photograph insects in extremely high resolution.
Biss teamed up with the Oxford University Museum of Natural History to record some of the best specimens from their collection.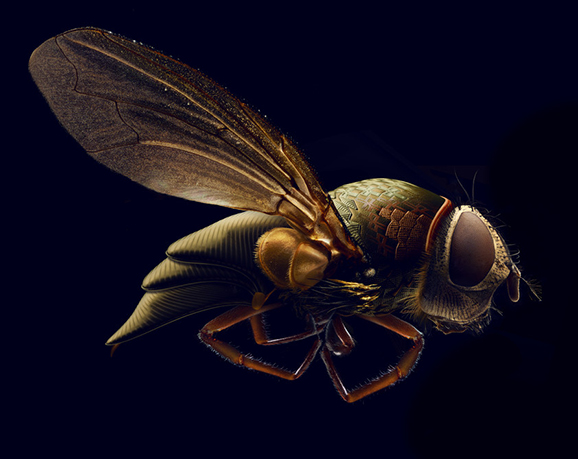 The process overcomes the problem of shallow depth of field inherent in all macrophotography by taking thousands of exposures as the camera moves in tiny increments through the Z dimension. The focused layers are then stacked digitally in the computer.


In addition, the insect is shot in as many as 30 sections, with different lighting setups for each section.
Insects are covered with finely textured microstructures, and the function of those tiny structures is still not completely understood.
According to Dr James Hogan of the Oxford University Museum of Natural History, "It's thought that microscopic structures alter the properties of an insect's surface in different ways, reflecting sunlight, shedding water, or trapping air. The evolutionary process of natural selection should account for all this wonderful diversity of microstructures, but for many species their specific adaptive function is still unknown. By observing insects in the wild, studying museum collections, and developing new imaging techniques we will surely learn more about these fascinating creatures and close the gaps in our current understanding."
After compiling the huge image files, he printed them out in a large format for
museum exhibitions (The show is currently in Basel through October 29, 2017)
.
Here's a behind-the-scenes video (
link to YouTube
).
On Biss's
website
, you can zoom deeply into the surface textures, like a drone flying over an alien landscape.
-----
Book:
Microsculpture: Portraits of Insects
Microsculpture website